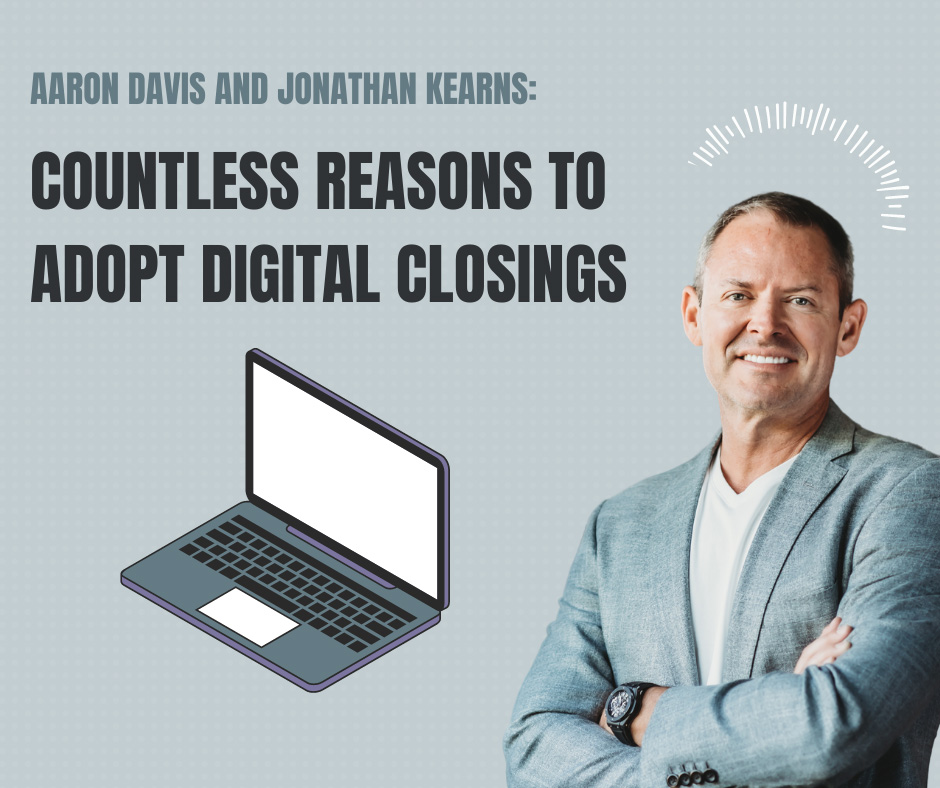 Aaron Davis is CEO of AMD Enterprises, a conglomerate of title, technology and eClosing ventures that includes Florida Agency Network, ClosingSuite.com, Premier Data Services and Network Transaction Solutions. He is also a frequent speaker at title and mortgage industry conferences and seminars, and often serves as a contributing author or expert source to numerous trade publications on issues pertinent to title and mortgage executives. You can reach him at aaron@amd-1.com.
Jonathan Kearns is MISMO Vice President of Technology. Recognized as a thought leader in the mortgage technology space, he has substantial experience developing technology and product strategy, including over a decade of experience with electronic signatures, eVault's and the eClosing process. Previously, he was Senior Vice President of Technology with DocMagic Inc., was responsible for its digital mortgage platforms.
It's been a hot topic for years now. So it's hard to believe that digital closings are still not the preferred means of conducting a home closing, although the rate of adoption continues to accelerate.
The American Land Title Association's 2022 Digital Closing Survey indicated that 62% of companies offering Remote Online Notarization expected the number of RON closings to increase. Furthermore, 65% of customers experiencing RON closings had a positive perception (up from 60% the previous year.) We also know that almost half of the closings performed right now are done digitally. In fact, one lender we know is already doing approximately 70% of its residential mortgage closings digitally. Digital closings are catching on both on the origination and the settlement ends of the transaction, even if not quite as quickly as originally anticipated.
Nevertheless, almost three years after the pandemic made remote meetings and WFH commonplace, every other closing continues to be conducted in-person. There are a number of possible explanations for this, but they are dwindling in number. As to the case for adopting digital closings, the obvious explanations (speed, efficiency, cost) remain. And now, even more equally persuasive reasons are emerging as well.
The case for digital closings: faster, cheaper, more efficient and effective
We know digital closings, for which RON can be an important element, are cheaper, faster and generally easier. We know they tend to be more convenient for all parties involved. We know the digital process eliminates travel time and increases efficiency for lenders and title firms alike. And yet, some resistance remains. Digital closings are not yet the primary means of settling residential real estate transactions.
Recently, a MarketWise survey reported that lenders using a hybrid eClosing process realized a 99 minute reduction per loan. Lenders using a full eClosing, including online notarization, saved 157 minutes per transaction. Overall, the same lenders indicated that digital closings had saved them up to seven days in the processing and funding cycle, as well as decreasing their cost per loan by $174.
We've also seen the mountains of evidence demonstrating that consumers prefer the convenience of not having to travel to a closing destination or even host closing or notary agents in their own homes. While there is some evidence that homebuyers do want a personal touch and human expertise involved in the transaction, there are numerous ways to align this preference with the effectiveness of a digital closing.
And then there's the reality that, in utilizing RON and digital closings, lenders and settlement firms alike realize time savings that allow them to redeploy staff to other areas of need, not to mention the tangible cost savings of eliminating travel from the process. Instead of time and money expended on things like travel, logistical coordination and even error ("Where's the closing again?"), digital closing professionals can execute a legal, effective closing from their own homes or offices in under 20 minutes.
The evidence is overwhelming, and the reality is evident. Digital closings can be a significant path to transforming and improving a cumbersome loan origination and home buying process.
Market trends equal a path to growth
But beyond the evident reasons we have explained, there is perhaps an even greater case for why our industry should fully embrace the digital closing. Recent market volatility and uncertainty have introduced another factor into the equation, but not one that's entirely new to the mortgage industry. History shows that our industry has been one to ramp up its staffing in times of high origination volume, then eliminate those costs via layoffs when volume dips. The result is temporarily high costs and inefficiency during those transition periods, especially when volume again spikes before firms can recruit, restaff and retrain, leading to poor operational capacity and even lost revenue.
Scalability is increasingly becoming a core goal for lenders and title businesses alike. Stung by the unforeseen volume surge of 2021, where operational inefficiencies became glaringly obvious, many firms, even during the current downturn of volume, are investing in their operations to make their capabilities scalable. The goal is to be able to do more with less, utilizing a relatively stable and scalable workforce supplemented by technology.
Could there be a more effective means to that end than the adoption and mainstreaming of digital closings?
Beyond the obvious: more reasons digital closings should be primary
Consider, also, how much time and labor are expended on post-closing tasks which might be necessary, but are hardly revenue centers to an operation. For example, the exchange of the transactional package once took days to be mailed or shipped from the site of the closing to the title agency and on to the lender. Not to mention the cost of shipping or postage and possibility of delay or even loss. Digital closings, however, dramatically speed the doc prep and delivery processes. The package arrives where it needs to be with the click of a mouse, instantaneously.
In the past, the typical title or settlement firm required a small army of trained personnel to prep a package for delivery for sale onto the secondary market. That tended to involve stacks (literally) of paper documents, hours of "stare and compare," and the real possibility for error as staffers applied the secondary market guidelines to manually closed packages. Now, following the introduction of electronic processing systems, we know of title agents who use one or two employees to shepherd the post-closing process, including QC.
Similarly, the secondary market is increasingly embracing the reception of eNotes. The speed, reliability and, most of all, dramatic improvement in QC—including the fact that eNotes can be auto-certified—are all welcome developments for a market that depends upon speed, reliability and accuracy.
Although progress has been a little slower than some initially expected, especially after the lightning-strike gains in adoption during 2020, there's no doubt that digital closings are becoming the preferred means of settlement. And as additional barriers to adoption are reduced or eliminated, we'll increasingly see the pressure for adoption not only coming from lenders and consumers, but service providers and even the secondary market as well. There are too many reasons in favor to be ignored any longer.
In the end, however, the digital closing is a far better, safer and more practical settlement solution for the consumer. We still hear words like "archaic" being used to describe the homebuying process. At the same time, consumers virtually glide through streamlined purchase or borrowing experiences such as auto leases, personal loans and just about any type of retail good available. So why do we still compel people to take time from work or life; travel to a location which may or may not be convenient to them and pick up a pen to wet sign hundreds of documents—especially when the ability to log in; click and buy/sell is right in front of us?

References:
https://newslink.mba.org/mba-newslinks/2023/february/mba-newslink-wednesday-mar-1-2023/aaron-davis-and-jonathan-kearns-countless-reasons-to-adopt-digital-closings/