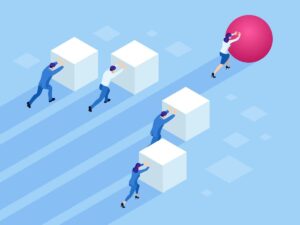 We recently noticed some eye-opening employment statistics in the February jobs report from the Bureau of Labor Statistics? For starters, there are reportedly 10M+ job openings in the U.S. currently, and only 6.5M people actively looking.
Wow.
This is an important stat for the title insurance industry to pay attention to, because when the Spring selling season ramps up, you will want to be staffed up to meet the demand a purchase market brings.
However, staffing up in the title industry is always challenging. Since no one is graduating with a degree in title insurance, agency owners are tasked with identifying ambitious young professionals and training them to the intricacies of the profession. But that's the long game. Do you have time to do that before Spring? Probably not.
But you do have time to sit down with your employees and determine where your pain points are and how to build in efficiencies that will make your current staff more effective.
With 2022 shaping up to be predominantly a buy/sell season, with far fewer refi customers, your per transaction time investment is going to be greater, so there is a more critical need to find ways to save time for your busy staff. And the labor shortage likely isn't going away any time soon—which could cause real headaches for title agents very soon.
Take a Fresh Look at Your Processes
Your staff is well aware of what is working and what is not working in your offices. Now is a good time to call a team meeting to put together an efficiency plan.
Enlist the help of your employees to identify where and how they are spending their time.
Address any concerns an employee may have about specific tasks or interruptions that are disruptive to the workflow.
Together, identify two or three changes that could be made to enhance the workflow.
Research one or two innovative technology offerings or service companies who could take specific, time-consuming tasks off your plate. (Hint: For multi-office agencies, centralized processes are often the way to go!)
By working closely with your staff to create greater efficiency, you will gain two advantages: your staff will have more buy-in to the changes, and they will hopefully experience far less stress when the transactions start rolling in. Also, letting your staff know that you are aware of the time demands and how much you value their work will go a long way to creating an excellent work environment for your employees in the long run.
Let Your Customers Know
In an industry that sometimes lacks differentiation, your efforts to improve workflow in your office can be the basis of a great marketing strategy.
Once the changes are in place or you have taken on a new service provider, get the word out to your customers. Explain to them how these changes are going to streamline their title and closing service, as well as enhance the overall experience for their buyers and sellers.
In the end, your customers will be grateful that you are working on their behalf to create a more efficient and enjoyable closing process.