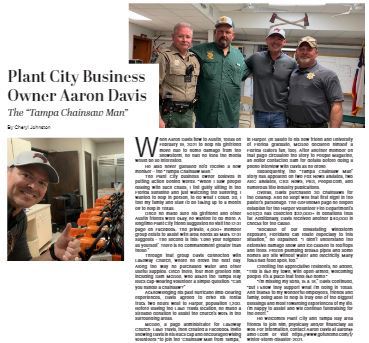 FOCUS PLANT CITY's issue number 20-03 released on Mar 21, 2021 ran an article highlighting the recent charity work by Aaron Davis in Harper, TX.
Written by Cheryl Johnston, the article emphasizes the work that Mr. Davis did after going to Harper, TX to help his girlfriend following the snow storm in Texas that killed over 50 people. His work in Texas earned him the nickname "Tampa Chainsaw Man" as he worked to clear debris in the small town that welcomed him with open arms.
Because of the work he did, he was inspired to help create a GoFundMe that helped raise tens of thousands of dollars to go towards relief efforts, and Mr. Davis stayed for weeks to help coordinate efforts. The article mentions that Aaron Davis related to the storms after the recent windstorms and hurricanes that Florida has dealt with over the past few years and, of course, how Aaron couldn't wait to get back home after missing his children.
FOCUS Magazine is published monthly and has served the Plant City, Brandon, Lakeland, South Tampa, Greater Winter Haven and Lake County communities since 2001.
To read the entire article, click here.