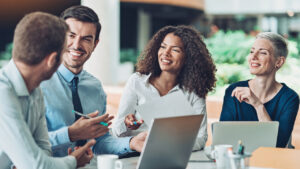 Well, it's that time of year again: conference season! Among our FAN, NTS, PDS and AMD Enterprises brands, we'll have representatives at quite a few events in the next couple of months. We hope to see you at any of the RESPRO, ALTA, MBA or Florida Land Title Association events. And this year, attending live events, networking and presenting or taking in relevant content will carry a little extra weight for all of us.
By now, it's unlikely most businesses in our industry haven't felt some of the impact from the dramatic change of market conditions and resulting economic uncertainty. We still absolutely believe there will be plenty of opportunity out there, but the fact is that when an industry swells to take in record amounts of volume, any loss of that volume will affect the businesses competing for what remains. Depending on whom you believe, that correction could last a few months to a few years.
That's precisely when, even though they're expensive, conferences and conventions are a worthy expenditure. They provide opportunities to partner. You may run into your next great client there. You may find talent that takes your team to another level. And most of all, you may get a wider view of how the national market (yes, we know—all real estate is local) is adapting to the changing market conditions and what the best of the best are doing to stay competitive.  That may mean partnering up with other firms for outsourced services or centralized, scalable resources. That may mean diversifying one's service offerings and products to capture a wider range of orders. That may mean automating one's workflow or bulking up one's existing tech stack to ensure that the business's margins stay strong.
Let's not forget, too, that "down" markets (and, to be honest, the fact that a forecasted $2 trillion market is considered a "down" market tells us just how historic last year's number really was) provide opportunities for those prepared. More than a few of the most recognizable names in our industry got that way by actually growing while others were struggling.
It's been a challenging couple of years for many trying to get back on the road after the pandemic. Conference season provides an opportunity for us to come back together as an industry and share what we're seeing or what we know. That's exactly how we've made it through previous downturns, and that's how we'll do it again.
Hope to see you soon!