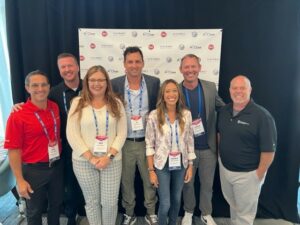 The annual National Settlement Services Summit (NS3) took place earlier this month, and FAN and AMD were there in full force! While it's always great to see old friends and make new partners and contacts, it's also useful to check out the content…especially after having a year or so without many in-person events.
Here's what our team took away from the Summit…
For many on our team, the star of the event was the session on the arrival of Real Time Payment (RTP) technology in the industry. Cheryl Gurz of The Clearing House did a great job of explaining how it works, as well as benefits such as fraud reduction, faster funding and more.
Chief Economist Elliot Eisenberg was another huge hit with his humorous, well-reasoned and entertaining look at what's coming. While he does see an (almost inevitable) recession in the cards, he does not see a "crash" for our economy. He strongly emphasized that we're not in for another 2008-like meltdown by any means.
Finally, whether in the sessions or overheard in the exhibit hall, it's very evident that our industry is extremely focused on automating just about anything able to be made digital. That includes implementing new products to the tech-stack (like RTP or AI-enabled customer service) as well as upgrading existing technology. The buzz in the hallways also the continuing fallout from a very high profile data breach and ransomware attack in the past year. The message is finally getting through—it's time for the title industry to upgrade its cyber defenses. And for those who still aren't convinced, we're hearing (and seeing) more and more lenders are beginning to demand the same of their vendors. It's no longer a choice. Increased vetting and higher standards are quickly becoming the new normal if you want a lender's business.
Finally, the closed-door roundtable that closed the conference reminded us that the CFPB is gearing up for increased enforcement activity, especially in the title space.
Overall, although the news was not always sunny, the positive attitude and determination that defines our industry was present throughout the event. It's clear that 2022 and 2023 will be a bit different than what we experienced in the past few years. Fortunately, it's pretty clear that we're all preparing for it and ready to take on the challenge!