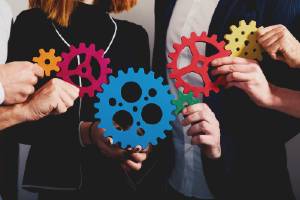 If you weren't able to get to ALTA ONE this fall, or even if you did, but missed the session, now's your chance to see our own Aaron Davis and a distinguished panel of experts (FNF's Chuck Cain, alanna.ai's Hoyt Mann, Premier One's Kevin Nincehelser, Equity Real Estate Services' James Schlimmer). Their discussion centered around everything a title agent would want to know about a rarely-discussed element of M&A: the post deal integration and challenges.
Note: ALTA membership required to see the video.
The session was entitled M&A Activity in the Title Industry: What Happens After the Deal is Struck? We had a pretty large and knowledgeable audience on hand, and the give-and-take was great. Among the topics discussed were technology, cyber security, culture, sales and even a little bit about valuing your own (or targeted) agency. Some of the questions asked included "What's the hardest part of integration?" "How do you have that first conversation with the acquired staff?" and "How do you integrate differing production systems?"
The panel also discussed timeline and setting an acceptable ROI on the transaction; evaluating whether the acquired business has an acceptable level of compliance and cyber security and even the consequences of misevaluating the acquired office's staff.
It was clear from the start that the attendees of the session were also very knowledgeable about M&A in the title industry. We were even lucky enough to have national attorney Francis "Trip" Riley act as a virtual 6th panelist from the first row (he asked several great questions and even helped answer a few more). Trip's a guy folks in the industry would (and often do) pay a registration fee to hear speak in his own right!
All in all, it was a great discussion. If you're an ALTA member, it's well worth the 60 minutes.